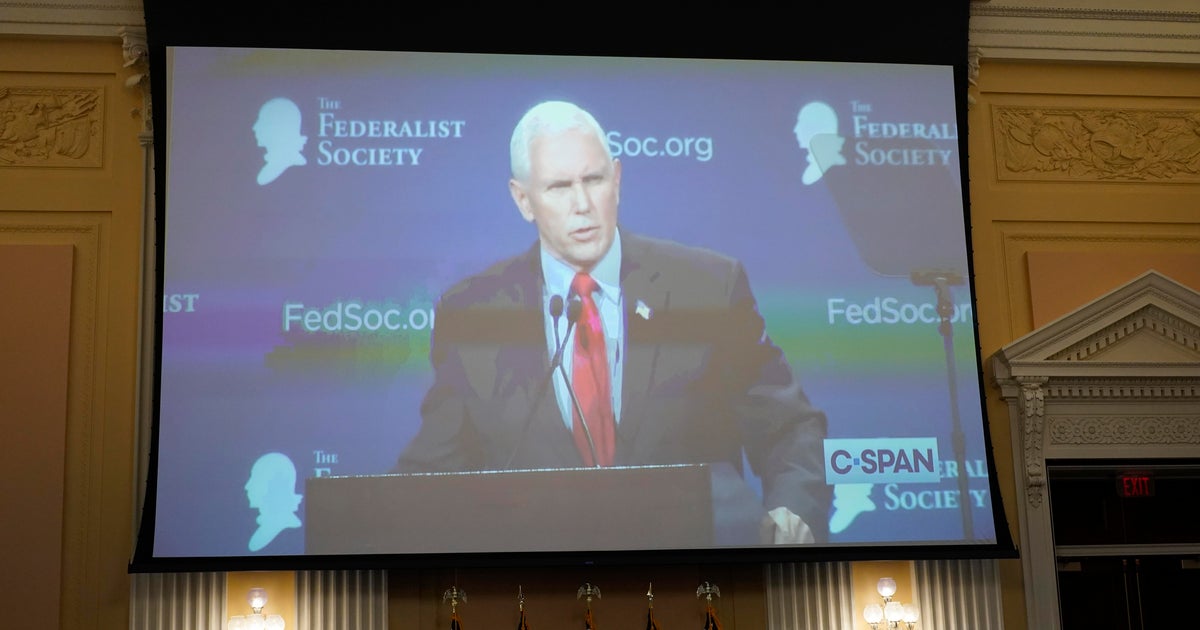 Washington — The House committee investigating the Jan. 6 attack on the Capitol is holding the third in its series of hearings on Thursday, with lawmakers turning their focus to former President Donald Trump's campaign to pressure former Vice President Mike Pence to reject electoral votes. 
"Mike Pence said no. He resisted the pressure. He knew it was illegal, he knew it was wrong," Committee Chairman Bennie Thompson said to open the hearing. "We are fortunate for Mr. Pence's courage on January 6. Our democracy came dangerously close to catastrophe."
Two Pence aides are testifying at Thursday's hearing: Greg Jacob, Pence's former counsel, and J. Michael Luttig, a highly respected conservative jurist and retired federal judge who advised Pence in the aftermath of the 2020 election. The committee also showed taped footage of an interview with Marc Short, Pence's chief of staff, and other aides.
The testimony made clear that Pence and his closest aides rejected a theory pushed by conservative lawyer John Eastman, who wrote a memo laying out the scheme for the vice president to single-handedly reject or replace slates of electors. Pence's aides said Eastman's ideas had no basis in the Constitution or federal law. 
Jacob told the panel that he advised Pence in December that he had "no justifiable basis to conclude" that he could unilaterally reject Electoral College votes, confirming what he said was Pence's "first instinct."
"There's just no way that the framers of the Constitution — who divided power and authority, who separated it out who had broken away from George III and declared him to be a tyrant — there was no way that they would have put in the hands of one person the authority to determine who was going to be president of the United States," Jacob said.
Short testified that Pence told Trump he would not reject electors "many, many times." But Trump continued to push the idea that Pence could overturn the results, including on the morning of Jan. 6.
Luttig said the idea that Pence could reject Electoral College votes had no basis in the Constitution or federal law, and doing so "would have been tantamount to a revolution within a constitutional crisis in America."